OCEAN COUNTY AUXILIARY
​WE ARE THE MALE AND FEMALE SPOUSES, GRANDMOTHERS, MOTHERS, SISTERS, AND DIRECT AND ADOPTED FEMALE DESCENDANTS OF MEMBERS OF THE AMERICAN LEGION. SOME OF US ARE VETERANS OURSELVES.
Ocean County
​Auxiliary President Deb Lasky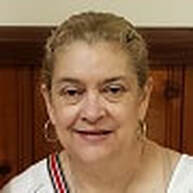 Ocean County Auxiliary Officers


President: Deb Lasky
Unit 455
198 Long Swamp Road
New Egypt, NJ 08533
(609) 213-4023
deblasky@aol.com

First Vice President: Lisa Mayer
Unit 129
98 Ambermist Way
Forked River, NJ 08731
(201) 224-3479
(cell) (609) 549-5003
(home msirishlam@hotmail.com

Second Vice President: Dawn Burger
Unit 166 560 Roosevelt Ave
Toms River, NJ 08753
(732) 998-1528
Momsbiker22@yahoo.com

Secretary: Ruby Cramer
Unit 493
16 Cardinal Drive
Egg Harbor City, NJ 08215
(609) 593-3781
rubycramer1@gmail.com

Treasurer: Alice Lewis Earley
Unit 455
956 Route 537
Cream Ridge, NJ 08514
(609) 758-2758
myrose537@comcast.net

Chaplain: Roberta Francis
Unit 455
92 Jarvis Street
Pemberton, NJ 08068
(609) 209-6666
ala.roberta.oc@gmail.com


Historian: Pam Bowen
Unit 129
1040 Route 166, Apt. 1702
Toms River, NJ 08753
(732) 914-1877
bowenpamela23@yahoo.com

Sgt-At-Arms: Mariann Zito
Unit 129
432 Spar Ave
Beachwood, NJ 08722
(732) 608-3274
legionlady49@aol.com
POST MEETINGS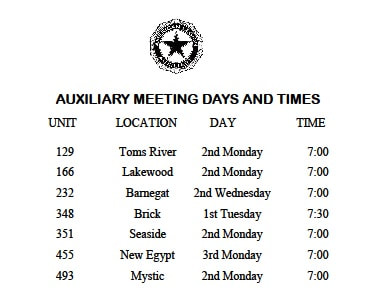 After World War I, the poppy flourished in Europe. Scientists attributed the growth to soils in France and Belgium becoming enriched with lime from the rubble left by the war. From the dirt and mud grew a beautiful red poppy. The red poppy came to symbolize the blood shed during battle following the publication of the wartime poem "In Flanders Fields." The poem was written by Lieutenant Colonel John McCrae, M.D. while serving on the front lines.

On September 27, 1920, the poppy became the official flower of The American Legion family to memorialize the soldiers who fought and died during the war. In 1924, the distribution of poppies became a national program of The American Legion.